14 Fabulous Places to Eat and Drink in Padstow
Padstow is a fabulous place to eat drink and rest and it's possibly one of our favourite parts about it. The variety, the quality, and the views you get down here on the Cornwall coast is stunning. We should know as we've known the area since our childhood.
We're often asked for the best places to eat and drink in Padstow and we're spoilt for choice with answers. From fresh fish to fine dining and good old-fashioned traditional pub experiences, Padstow has something for everyone.
If you're looking for sea views, warm winter fires, real ales, lively atmosphere, or bistro experiences then you're in luck – Padstow has all those and more.
It's nearly impossible to narrow down the top choices, but we've given it a go.
Here are our 14 favourite places to wine, dine, eat and drink in Padstow…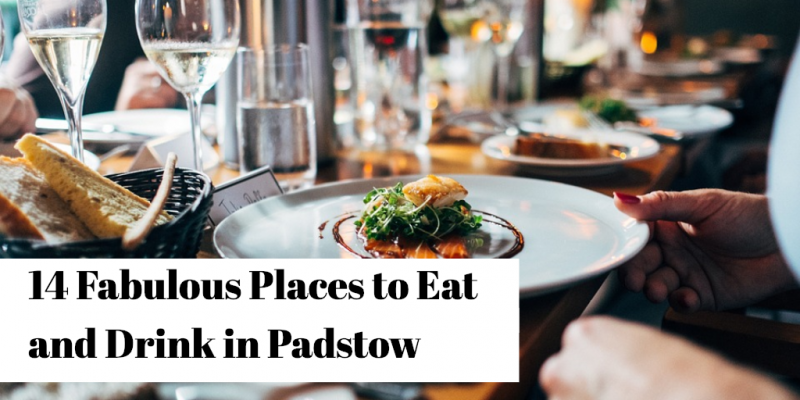 Bin Two
Bin Two is a little gem! If you're a wine buff or someone who enjoys an intimate drinking experience then Bin Two is the place to go to. Hidden away in a corner of the harbour, this exquisite little place offers freshly ground coffees, fine wine by the glass or the bottle, and some rather delicious fresh fish snacks with lobster, crab, and fine cheeses to match.
It's not really a dinner venue but simply stunning for afternoon drinks with friends or morning coffee before your big walk!
Chough Bakery
We do love this bakery… and so do the locals! Chough has been a family-run bakery for over 30 years and their awards and fine attention to detail make this is a must visit when you come down. Their award-winning pasties are to die for and you'll be impressed by their range of products, great prices, and of course their typically locally sourced ingredients.
This is our favourite place for a Cornish pasty and highly recommended. Don't be surprised if you see us in the queue!
Golden Lion
A lot of our guests come to Padstow to unwind and the thought of dressing up and fine dining isn't their ideal, so if you're like them and want a traditional, warm and friendly pub then the Golden Lion is fab!
The 14th Century inn is the oldest in Padstow and has a great selection of beers and wines and is a real winner for a Sunday lunch.
If you want open fires, home cooked food, and a family friendly place to eat then check out the Golden Lion.
Harbour Inn
The Harbour Inn is set just back from the Harbour on Strand Street and is a real home from home. Set in a classic harbour pub, the Harbour offers a good honest meal and some great drinks and atmosphere.
They welcome dogs, children, and adults alike and you'll love their homemade pies, locally sourced fish, cask ales, and great wines. They even have a pool table if you fancy a game.
London Inn
The London Inn is a classic Cornish experience with charm and atmosphere oozing from the hanging baskets in the summer to the vibrant atmosphere inside next to the fire in the winter months. They're very proud of the fact that they have the LARGEST selection of cask ales in Padstow town too so if you're a real ale lover you'll probably need a few weeks to try them all!
Once comprised of three fisherman cottages, the London Inn is a great place to visits, drink, dine and unwind, and is only a minute's walk from the harbour.
Paul Ainsworth at No.6
Fine diner? Put this one on your bucket list. Paul Ainsworth has worked with Gary Rhodes, Gordon Ramsay, and Marcus Wareing and his restaurant 'No.6' is well-known in Padstow for its high quality dining and fine wines. Winning a Michelin Star in 2013, No.6 also has four AA rosettes!
If you're a foodie then you must make a point of booking a table here. With a great wine selection chosen by sommelier Sarah Clements you're also spoilt when it comes to the wine list too.
Michelin star food, fabulous wines, and the most amazing setting make this a real treat for your stay in Padstow.
Prawn on the Lawn
Islington couple Katie and Rick moved to Padstow in 2015 to set up this, their second sea food restaurant, after the success of their Islington Prawn on the Lawn venue. Prawn on the Lawn is deliberately simple with only 24 covers at one time, and the menu changes through the seasons.
This isn't your classic starter, main, and dessert eating experience either. Katie and Rick have created a real sharing experience with a real tapas style to the way your food is served.
Sample delicious, fresh fish dishes in a beautifully modern, but classic and intimate setting.
Rojano's on the Square
Back in 1905, this 19th Century building housed Tonkin Bootmakers, local craftsman who created hand sewn sea-nailed boots for Padstow's fishermen. Now a stunning Mediterranean delight, Rojano's follows on from the fabulous No.6 with quality and experience and locally sourced ingredients.
Rojano's promises delicious rustic Italian and Mediterrean food and despite the decadent surroundings, the prices are very reasonable for the quality. In the summer you can dine outdoors. Love your fine Italian wines and meats? Get a table booked!
The Basement
Formally a storeroom for the ship building that took place in the 1900s, The Basement is a former café opened in 2002. With locallay-sourced food, and views of the harbour from a very idealic position, The Basement aims to serve "quality, well-cooked food, sourced from local producers and suppliers at reasonable prices"
With food from breakfast to dinner and Sunday lunch to ice cream, The Basement even boasts Cornish wine on the menu. Well worth a visit!
Restaurant Nathan Outlaw
If you're after some fabulous fish and superb views of the Cornish coastline then pay a visit to the wonderful Nathan Outlaw. With a keen eye on sustainable fish caught exclusively from small day boats, this little gem has much to enjoy.
The intimate restaurant can cater for small parties and the kitchen bar gives you a close up view of the action in the very busy kitchen. View, smells, and divine food? Check this one out.
Ruby's Bar
Owned by Rick and Jill Stein, this bar is THE place to come for a cocktail in Padstow and is only a few minutes' walk from the harbour. With expert bartender Mr Lyan in charge of mixology, you'll not be disappointed with a Nitro Express Martini here!
The selection of gins and wines has been heavily influenced by Rick Stein and his wife and the design of the private dining follows suit. Chin chin!
St. Petroc's Bistro
Another gem in Rick Stein's empire, St Petroc's Bistro is a more chilled and laid back affair to his more famous restaurant. So if you're looking for something delicious from the grill but prefer to remain in your relaxed mode then this is a great compromise. Dogs are welcome in the bar.
St Petroc's has a cosy snug bar, relaxing lounge and also a great outside drinking space in the summer.
Stein's Fish and Chips
Rick Stein's eateries are popular in Padstow but for very good reason. His fish dishes are well respected and simply divine. How about a classic fish and chips with the expertise of a Michelin chef, overlooking the Camel Estuary? Fish options are available gluten-free along with the delicious accompaniments you'd expect.
Get yourself down to the South Quay for a table or take away of some of the best fish and chips you'll taste!
The Seafood Restaurant
And finally, you can't come to Padstow as a foodie and not visit the jewel in the crown of Rick Stein's collection. The Seafood Restaurant is often thought of as THE seafood restaurant and its popularity only adds to that feeling. Here since 1975, Rick's infamous restaurant has since claimed and kept its reputation for incredibly fresh fish and shellfish.
Watch chefs in the seafood bar in the middle of the restaurant to see your meal being put together. Savour oysters, squid, lobster, crab, and some incredible cheeses and wines. This really is a treat and one to savour!
Padstow… something for everyone!
From cosy snugs to stop offs on long walks to fine dining and food and wine to match – Padstow is the place to be. Views, fresh fish, and incredible atmosphere make Padstow an exceptional destination for a short break or holiday, and you'll not go far wrong with any of the choices above.
If you need need somewhere to stay then contact us now or browse our properties here.