Now that the early New Year's blues have lifted, we think that this is the perfect time of year to set out your goals for 2022. At Padstow Breaks, we are particularly aware of the positive impact that being by the sea can have on your mental health, and we hope that a trip to Cornwall leaves you not only physically refreshed, but mentally reinvigorated as well. With this in mind, here are our top 5 resolutions for maintaining a healthy body and mind.
Get in the cold water!
Coldwater swimming is seeing a massive surge in popularity. People of all ages are bracing themselves for a dip in the sea, and the hardiest of souls are doing this all year round. Without a wetsuit! You might think they're mad, but the fact that they keep going back for more tells its own story. It's actually been proven that swimming in cold water causes your brain to release all sorts of natural chemical goodies and that the initial shock of the crisp water provides a sensational boost to your immune system, something we could all do with right now. So why not give cold water swimming a try this year? And let us know how you get on.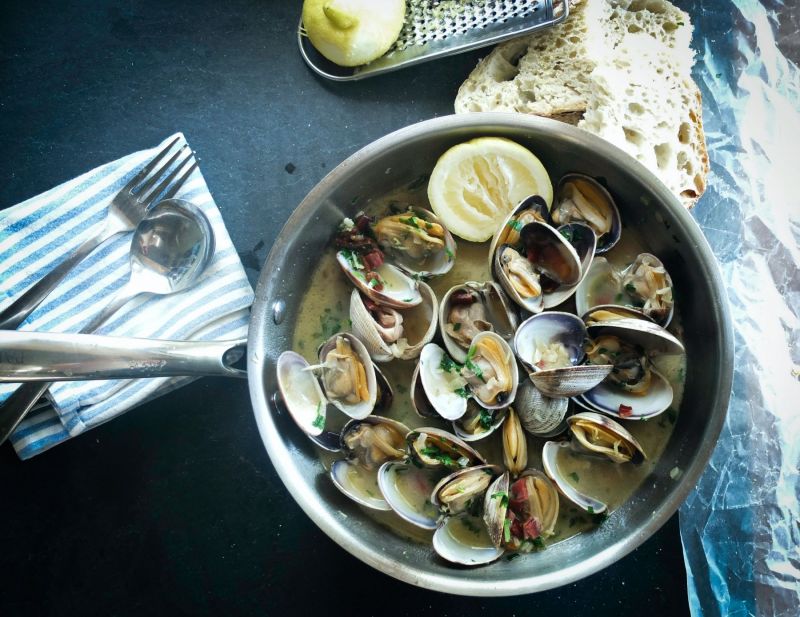 Padstow has a selection of the finest seafood restaurants in the world, so sample some freshly caught fish and support the local food industry.
Eat fresh. Eat local.
Here in Padstow, we're fortunate to be surrounded by hundreds of amazing local food producers. So this year we're going to make a conscious effort to cut down on our food miles and support local suppliers. With farm shops aplenty, and websites such as Naturally Cornish bringing together the very best Cornish brands under one roof, it's not a difficult resolution to achieve, it just needs a change in mindset. We're confident that shopping local and eating fresh will result in us enjoying tastier goods and leave us feeling better about our carbon footprint.
Yoga by the sea.
Yoga is amazing at the best of times. Even the lightest routine will work wonders for your flexibility and suppleness. But have you ever tried it on the beach and in view of the ocean? If you have, you'll know why it's so amazing, if not, give it a try. Holding poses on the soft sand with the sea crashing in front of you takes yoga to the next level. There are heaps of instructors offering instruction and classes on the Cornish beaches, a simple google search will reveal plenty, but there's also a stack of free guides and courses available online. Try these 8 simple beach yoga poses to get you going.
Get active. And stay active.
This is the annual resolution for most of us. And the one that is most likely not to last the year. But when you're in Padstow being active is part of everyday life, so it's much easier to integrate exercise into your daily routine. A stroll along the beach, a quick run out to the headland, a cycle to Wadebridge along the Camel Trail, or a marathon around the famous Cornish clay pits. Whatever your comfort level, there's always something active to get involved with. And you can always reward your endeavours with a pasty and a glass of local wine.
There's plenty to distract you from the pressures of your mobile devices in the famous Padstow harbour.
Detach from our devices.
The irony is that you're reading this on the very thing that we should probably be spending less time on. And it's not practical to go cold turkey from our phones when we rely on them for nearly everything we do. But it is important to have periods of time when we take a break and detach from the virtual world, and a break in Padstow is a great time to do that. Whether you're staying in Cornwall for a short weekend or visiting for longer, make time to look up from your screens and take in your surroundings. Padstow is the perfect place to sit and watch the world go by, whether sat with your legs dangling over the quay in the harbour or from the window of one of the many amazing restaurants, so give your mind time to unwind and soak up the atmosphere.
If you need luxury accommodation in Padstow this year, check out the Padstow Breaks homepage. We have a range of cottages, apartments, and houses located in and around Padstow waiting to help you achieve this year's wellness resolutions.