As you listen to the waves wash against the shore and take in the freshest air you've breathed in a while, you can look forward to a blissful evening in the local restaurants and bars, overlooking the harbour and reminiscing on life and love, and laughing with friends and family.
Padstow just has that effect on people.
With all the coastal goodness, fresh fish, and local real ales, you can see why so many people flock to the jewel in the Cornish coast each year. Padstow, famous for ship building and fishing, plays host to some stunning views and one of the best ways to enjoy them is on the many walks you can do.
The South West Coast Path can be found on both sides of the River Camel estuary and crosses from Padstow to Rock via the Black Tor ferry. The path gives walking access to the coast with Stepper Point and Trevose Head within an easy day's walk of Padstow.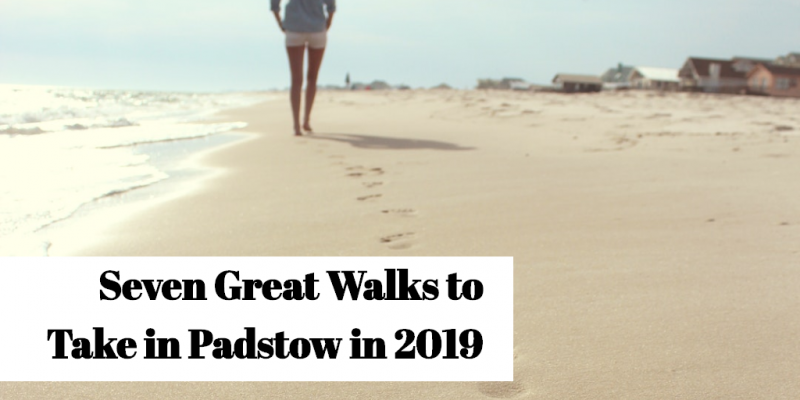 Padstow to Harbour Cove
Distance: 3.1 miles / 5 km
Footwear: walking boots or trainers
This walk starts and finishes in Padstow with a walk through the town and then out to some of the wonderful sights in the area, including ancient churches and monasteries. Harbour Cove is an unspoilt beach, with incredible views over the Camel Estuary and across to neighbouring beach Daymer Bay. Harbour Cove is also the only beach on the Padstow side of the Estuary that's open to dogs all year round. The return leg of the walk follows the coast and guides you past Harbour Cove, Hawker's Cove, and St George's Cove, which all accommodate dogs depending on the time of year.
Rock to St Minver
Distance: 6.7 miles / 10.9 km
Footwear: walking boots or trainers
A slightly longer walk than the first two, Rock to St Minver takes you on a journey through the dunes on the way to the beautiful St Minver with its infamous 'wonky' church. St Minver is a parish and village which is three miles north of Wadebridge. If you're a real ale lover then this is the perfect pub crawl with three pubs and a brewery en route!
Padstow to Harlyn Bay
Distance: 6.8 miles / 11.1 km
Footwear: walking boots or trainers
If you're a family with slightly older children up for the distance then this is a really good choice with some level terrain and some hills. With dramatic coastlines and smuggler's caves en route you'll love the adventure and discovery on this walk. The walk encompasses beaches and pubs which are dog-friendly and it makes it a great family day out.
Padstow and Prideaux Place
Distance: 3 miles / 4.8 km
Footwear: walking boots or trainers
This short walk is ideal for families with younger children, and bird fanatics will love it too. This short but enjoyable walk starts from the harbour and follows a path northwards along a tarmac path and onto a coastal path. With views of the Camel river and sightings of rare birds including merlins and even peregrines, this is one for the family and ornithologists.
Padstow to Constantine
Distance: 10 miles / 16 km
Footwear: walking boots or trainers
Constantine is well known as one of the best surfing beaches in Cornwall and this healthy walk takes you there via the beaches of Trevone, Harlyn Bay, and Mother Ivey's and Trevose Head. With views of the Camel River and cliffs and even a lighthouse, you'll love this scenic adventure that ends at the lovely soft sand dunes at Constantine. Constantine Bay is another excellent beach, wide with soft sand. There are rocks at either end of the beach. If you're up for walking back, you can double the miles, or maybe you'd prefer to catch a bus in town to take you back to Padstow.
Padstow Town
Distance: 3.5 miles / 5.6 km
Footwear: walking shoes or trainers
Padstow is a beautiful place full of hidden treasures and history and this walk takes you on a tour of many of them. You'll be taken to the north quay, coastal path, estuary and the camel trail too. You'll re-enter the town via churchyard where the Celtic monastery of Lanwethinoc is thought to have been. Enjoy some of the amazing sights that Padstow has to offer and finish up in the harbour for a drink!
Bedruthan Steps
Distance: 4.5 miles / 7.3 km
Footwear: walking boots or trainers (but you'll need to drive to the start point).
This walk leads to the famous Bedruthan Steps and is a relatively short walk and ideal for beginners. There are 149 steps carved into the rock face that lead down to the beach. Legend says they're the stepping stones of the Giant Bedruthan.
You'll see lots of great sights and views, none more so than the final view of the iconic stacks at Bedruthan Steps which has to be one of the most photographed stretches on the Cornish coast. Don't swim here, but do explore the caves and rock pools. The beach is closed from the end of November to the 1st of March and is dog friendly.
Flat, scenic, and surrounded by beautiful sights
Padstow and the rest of the Cornish coast is awash with stunning scenery and it's a given that you should get out there and enjoy it. The coves, cliffs, wildlife, and incredible sea views and coastal paths really give you some superb fresh air and work up an appetite for some of the amazing places to eat in Padstow.
Strap on your walking boots, round up the kids and the dog, and get out and enjoy it!
(Don't forget to post your photos on our Facebook Page!)