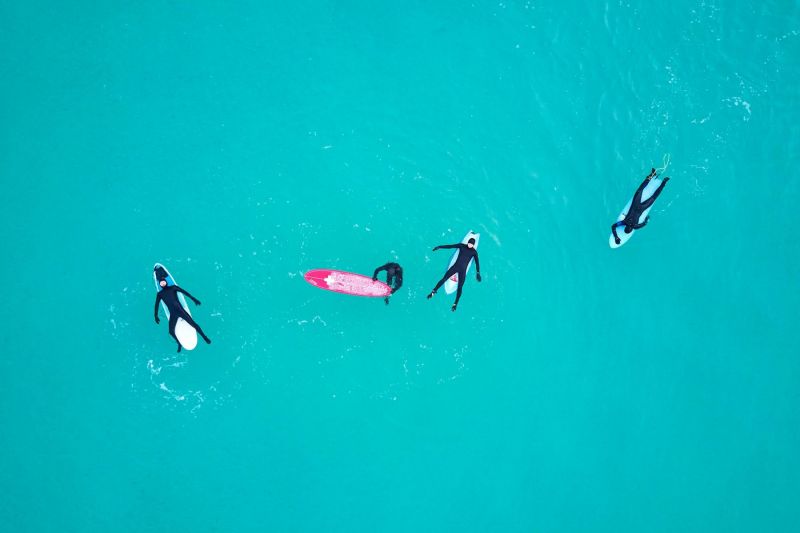 If you've got holiday accommodation in Padstow booked for this year, the chances are you're going to be spending some time in the sea. Cornwall is famous for its sandy beaches, beautiful coastline, and consistently great surf, so a surf lesson is a must. And the best thing about surfing is that it's never too late to start. Whatever your age or previous experience in the water, you can soon be up and riding on the majestic Atlantic waves.
You might decide to have a surf lesson or opt to teach yourself, but however you start your surfing journey, be sure to follow our top surfing tips for beginners to maximise your enjoyment in the ocean.
Be confident in the water.
It goes without saying that to properly enjoy your surfing experience you need to have a base level of water confidence. There's no point in ruining a surf session because you're scared to get your head under the water or are worried about being knocked over by the waves. As long as you stay within your ability, surfing is perfectly safe, and there's no getting around the fact that you're going to be bashed around by the sea a bit. But this isn't a bad thing! Enjoy the feeling of the sea's power, and learn to quickly compose yourself after being knocked down. If you can, spend some time prior to surfing getting used to being under the water, either in a swimming pool or in the sea itself.

There's no way around it, when learning to surf you're going to fall off, a lot!
Choose an appropriate surfboard.
For learning to surf, stability is best. Unfortunately, the board that you learn to surf on isn't going to be quite as fashionable as the ones you see better surfers casually strolling along the beach with. But that's ok, put in the hours and you'll be riding a trendy neon surfboard before you know it. For now though, big is best. Bigger boards float better, are easier to catch waves on, and will get you up and riding in no time at all.
Stay warm.
However good the surf, there's nothing that saps your enjoyment of the water like being cold. And if you're surfing as a family, make sure the younger members of your group have wetsuits and equipment that will keep them warm. In the spring months, and even into June and early July, the Atlantic water can be cold, so be sure to hire or buy a properly fitting wetsuit appropriate for the water temperature. You might even need boots, gloves, and a wetsuit hood. Proper wetsuit equipment really is the difference between an unforgettable surfing experience and one that you'll never want to repeat.
Practise your 'pop-up'.
The repetitive motion of getting to your feet can be practised on dry land. And if your body is already familiar with the process of getting to your feet, you'll find instinct takes over in the water. Watch this video clip and practise repeatedly before entering the water.
Persevere.
If you follow all of our previous tips, you're sure to be up and riding sooner rather than later. But the difference between getting to your feet as a beginner and developing as an intermediate or even advanced surfer is a long journey. Similarly, don't be disheartened if you don't manage to master surfing at your first attempt. Like any skilled activity or sport, perseverance is the key. Keep practising, catch as many waves as you can, and you'll find that your balance and ability to read the ocean will dramatically improve.

Put in the hours, and you'll soon be charging down the line.
Learn to paddle properly.
So far we've talked about getting to your feet and how important your 'pop up' is, but this is all completely irrelevant if you can't even catch waves. If you're riding a nice floaty soft top, catching waves should be easy, but it still relies on a solid paddling technique. Make sure you position yourself on the board properly, somewhere in the middle so your weight is balanced across the board. Too far forward and the nose will go under the water, sending you over the front of the board, too far back and the front of the board will stick up in the air. And when you paddle take long, slow strokes, carefully alternating your arms. This video demonstrates the all-important paddling technique.
By following these 6 tips, you're sure to get the most out of your time in the Cornish surf. In order to stay safe in the water, check out the Padstow Breaks guide to beach safety. And if you're looking for accommodation in the Padstow area, visit the Padstow Breaks homepage for availability.