When we think of Padstow, our mind conjures up images of lazy days lounging by the harbour, gentle strolls along the coastline, and making the most of the golden sand. But there's another side to Padstow that is often overlooked, adding further to the appeal of this near-perfect Cornish holiday destination, and that's the warren of shops and boutiques just waiting to be explored. We've picked out 8 of the best shops in Padstow, ranging from independent local boutiques to larger more established brands, all waiting to welcome you in through their door and let you sample their amazing products and produce.
1) The Aloft Shop, Padstow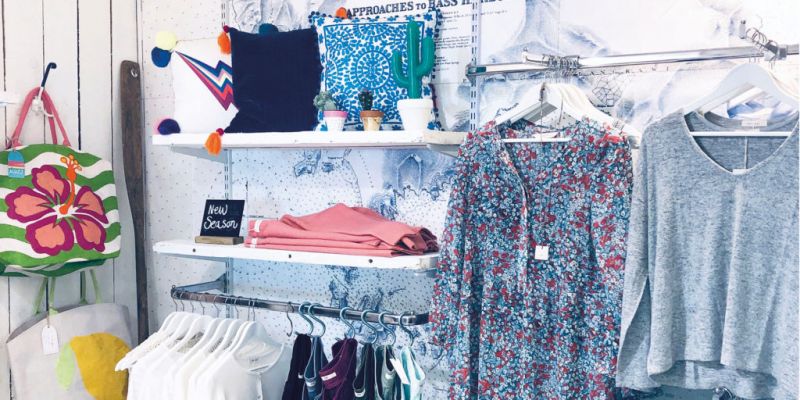 Aloft is an independent clothing and lifestyle boutique that can also be found in the seaside town of Salcombe. They showcase a unique selection of fun, casual and high-quality brands that are carefully sourced, letting you take home a slice of the Padstow coastal vibe and holiday fun, wherever you might live.
2) Quba & Co, Padstow
Now very much part of the fibre of daily Padstow life, there are few places better suited to the Quba brand. Originally turning sails into waterproof jackets, Quba & Co has expanded to produce a wide range of nautically-inspired, men's and women's clothing and accessories for everyday life. Practical, functional, stylish, and infinitely cool, a Quba jacket is an investment in seaside living.
3) The Harbour Shop, Padstow
Sometimes you need branded, high-quality clothing and accessories. And sometimes, you just need a bucket, a spade, and a crab line. In fact, pretty much anything you could need for a day at the beach can be found in The Harbour Shop. And even better, you walk right past their front door on the way to the beach. It's no surprise that this is one of Padstow's busiest shops, all year round.
4) Jo Downs Handmade Glass, Padstow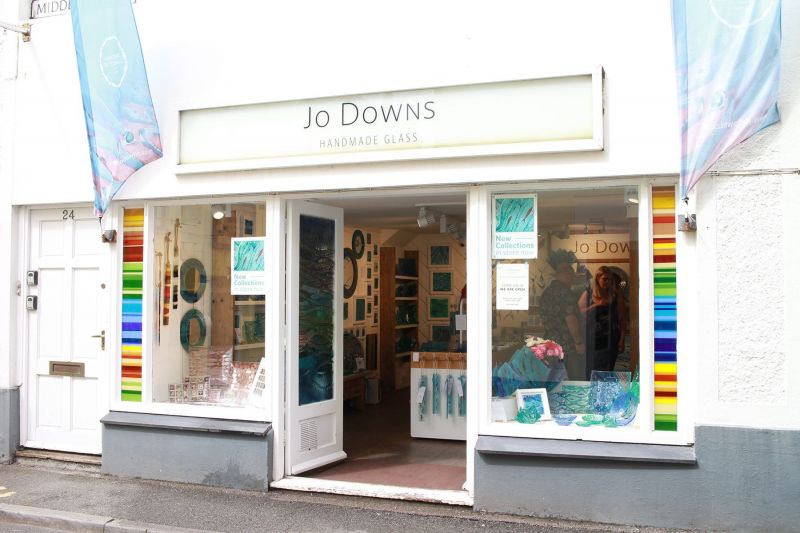 Jo Downs is one of the world's most respected fused glass designers. Working from her Cornwall studio, her work draws inspiration from the beautiful coastal landscape while advanced fusion methods allow for the creation of unique abstract designs of great beauty. Jo's ever-popular Padstow gallery is a colourful, family-friendly space where you can get your hands on a selection of glass gifts and an impressive range of bowls and panels.
5) Stein's Gift Shop, Padstow
Rick Stein has become a firm fixture in Padstow's heritage. He is a local legend, and a trip to Padstow is not complete without visiting one of his shops, restaurants or takeaways. And if you want to take home a little bit of the Stein magic, you'll find hampers, books, and a host of delicious foods and drinks generously filling the shelves of his very own gift shop.
6) The Padstow Book Seller, Padstow
Selling contemporary and historical classics, the latest blockbusting holiday page-turners, as well as an impressive choice of local texts championing Cornwall and its surrounding areas, The Padstow Book Seller should be one of your first ports of call upon arriving in Padstow. The friendly staff are always on hand to make informed recommendations, or if you'd rather, simply browse the shelves for something that jumps out at you. With the sea crashing on your doorstep, and the seagulls hovering overhead, there's no better place than Padstow to indulge in some well deserved holiday reading.
7) The Blue Wing Gallery
The Blue Wing Gallery is an independent family run business, delivering beautiful, exciting jewellery which makes the perfect souvenir from a holiday in Padstow. This boutique jeweller sells unusual, unique and individual designs in contemporary materials and boasts collections of hand-made and high calibre, crafted jewellery, distinctive in style and appearance.
8) Crew Clothing, Padstow
Found all over the UK, but never more at home than in Padstow, the Crew Clothing range is designed to be worn in beachside locations and chic harbour restaurants. Perfectly mastering the smart-casual look, with an added dose of practicality, Crew Clothing in the heart of Padstow is the ideal place to restock the holiday wardrobe.
So that's 8 of our favourite shops in Padstow, and really it's only the tip of the iceberg. With a maze of side streets to explore and get lost amongst, there's no better place than Padstow to indulge in a slice of holiday retail therapy. For accommodation within walking distance of the best shops in Padstow, check out the Padstow Breaks homepage.