One of the best reasons to holiday in the UK is the constantly changing beautiful scenery and our historic traditions across the year. From spring to summer and even in December, destinations like Padstow in Cornwall offer so much without the need for airports and passport control!
Padstow is well known as the foodie paradise of the UK. With its famous restaurants and of course legendary fish and chips, there's so much for food lovers to love about the Cornwall gem! Padstow is also famous for the inspired art, fabulous beaches and of course the beautiful countryside surrounding it too.
If you're thinking about making a trip to Padstow in December or you're already booked in to celebrate the festive season then you're in for a treat.
Here are four of our top picks for your visit to Padstow this December.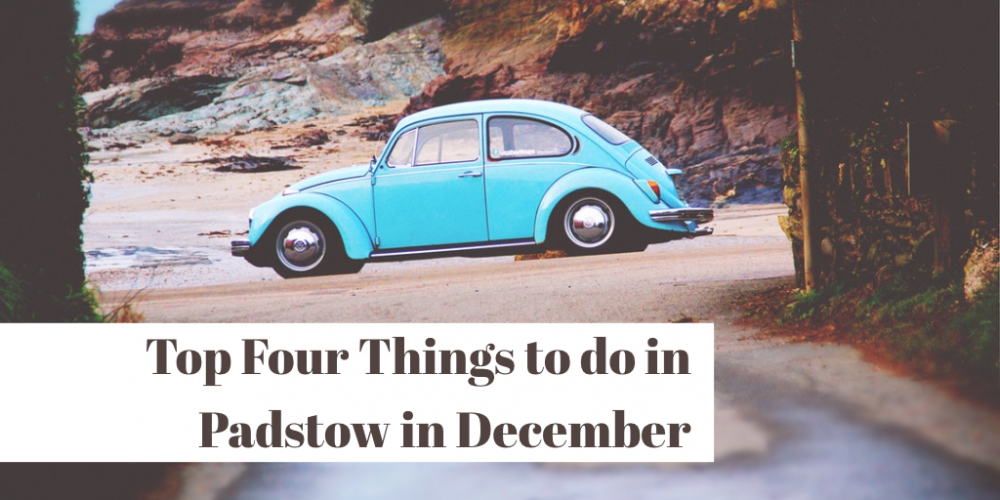 Happy Christmas Padstow!
Nadelik Lowen Padstow (which means Merry Christmas Padstow) was a roaring success. Booking for next year is essential if you want to be a part of the 2019 festival, set to be run on 30th November and 1st December.
Padstow also plays host to a jam-packed Christmas festival on the second weekend in December. From wine tasting to big food demonstrations and even a 'Santa dash', the festival is a real family treat and has something for everyone to enjoy.
Backed by strong foodie fans, the festival gives you more than you could wish for in a December festival. With markets, festive lights, and the chance to see and taste the amazing food being prepared, you'll love the weekend festival.
Rick Stein's Cookery Course
Padstow is blessed to have celebrity chef Rick Stein's world-famous restaurant here. In 1975 after retiring the idea of a nightclub, Rick and his wife Jill opened their famous seafood restaurant which has since received global fame in the culinary world.
Want to learn how to cook like Rick himself? Courses are run at Rick's cookery school, which he opened in 2000. On opening the landmark school, Rick said his vision for the cookery school was to 'run a place where he would enjoy cooking, a place where the whole morning would revolve around lunch'. That sounds good to us!
In December and January, you can learn to cook fish and shell fish and this experience is highly recommended. Learn to create great seafood in the home of seafood with one of the best! Rick Stein's Cookery Course.
Camel Trail Cycling
One of the best reasons to come to Padstow is the amazing scenery and the great outdoors. With breathtaking views and all the fresh sea air you could ask for, we like to think of it as nature's therapy to a long year!
Cycling is a great way to blow away the cobwebs and we're blessed to have a great route right on our doorstep. The Camel Trail runs along a disused railway line and covers an 18 mile stretch so you can really get pedalling. It's a safe, traffic free route that even has the option of a halfway pasty stop and Wadebridge. (Since when has a pasty been optional in Cornwall really though?!) The Camel Trail follows the course of the Camel Estuary, which will show you some of North Cornwall's most beautiful sea views, scenery and wonderful wildlife.
This is a great activity for any time you're in the area, and is obviously a little warmer in the summer months. You can find out more about it on the Padstow Cycle Hire website.
Coastal Walks all wrapped up!
There's nothing better than a good brisk walk after a large meal, is there? Walking in the fresh air and chatting with family and friends is what festive times are about and in December (and all year round) you're spoilt for choice in Padstow.
What could be better than coastal walks all wrapped up with your scarves, hats and gloves and tasty meals at local Cornish Pubs with log fires? Bliss!
If you're looking for traditional pubs along your walks then you could plan your route around one or more of these fabulous public houses, many of which date back to the 14th century.
The Harbour Inn, Padstow
A traditional inn with good honest food and a nautical theme, The Harbour is a favourite of ours and well worth a visit – The Harbour Inn.
The Shipwrights, Padstow
The Shipwrights is a lovely, traditional brick building that was originally used serve fishermen and tradespeople. Shipwrights has stunning harbour views, boasts some award-winning beers, and frequently receives great reviews for the fresh pub food - The Shipwrights.
The London Inn, Padstow
St Austell Brewery are well-known in these parts for excellent brewing and their own Padstow pub, The London Inn, showcases their excellent brewing talents. They also serve delicious classic pub food made with locally sourced ingredients. Children are welcomed and The London Inn is open 7 days a week - The London Inn.
The Golden Lion, Padstow
The Golden Lion is another must-visit pub, and just a minute walk from the quay. The building has been a part of Padstow since the 14th century and the pub is steeped in history. They're proud of their locally sourced top rated steaks thanks to their link with Button Meats and their open fire and parquet flooring makes this a perfect stop during a long (or even a short) walk – The Golden Lion.
The Old Ship Hotel, Padstow
The Old Ship is a traditional oak beamed hotel that overlooks the Camel Estuary and is surrounded by imposing cliffs and golden beaches. Serving freshly-landed fish from the harbour and locally sourced produce it's a must visit, especially if you fancy a stop off on your cycle ride down the Camel Trail – The Old Ship.
The Custom House, Padstow
The Custom House is a stunning medieval harbour restaurant with an oyster bar and grill which holds a prime location on the Padstow quayside. The incredible interiors and traditional and locally sourced food all adds to a typical Cornish welcome. It's well worth a visit – The Custom House.
BinTwo
If you're a wine lover then you have to check out this hidden treat. BinTwo boasts a huge selection of great wines by the glass, along with snacks to pair with them beautifully. Hidden away just back from the harbour, BinTwo is well worth checking out if you're a wine fan – BinTwo.
Padstow in December – overflowing with festivities…
Having been in love with Padstow since childhood, we're pretty biased but we think this is the perfect place to come and enjoy the end of the year. With great food, markets, unrivalled harbour atmosphere, and seafood to drool over, Padstow has it all.
Fancy a break? Check out our properties and availability right here.