Christmas is not complete without a trip to the man in the red suit. And despite his busy schedule, he's managed to find plenty of time to visit the people of Cornwall in 2021. It's a whirlwind tour, with grottos and workshops popping up all over the county, but we've managed to narrow down what we think are the best places to see Santa in Cornwall this year. How many times you visit is up to you, but make sure you hand-deliver your list at least once to avoid ending up on the naughty list.
1) Christmas at The Eden Project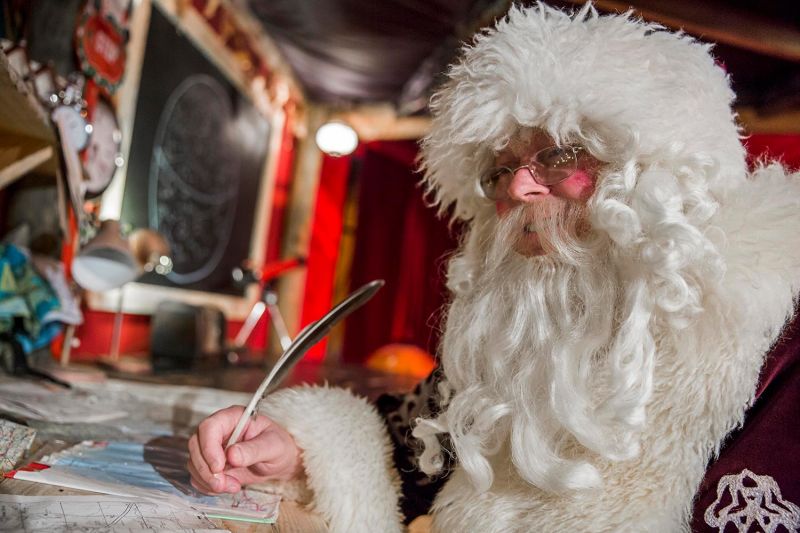 A tricky place for Father Christmas to land his reindeer, he has selected dates at the Eden Project throughout December. His elves will be setting up a magical Grotto and all visitors receive a beautifully hand-wrapped gift to remember their visit. Combined with the other Christmas activities already going on at The Eden Project, it's not difficult to see why slots with Santa book up so quickly.
2) Santa at Dairy Land, Newquay
Probably in his Cornish schedule to allow time for the reindeer to meet some familiar faces, Father Christmas touches down at Dairy Land Farm (just outside Newquay) on the 4th of December. His grotto in one of the cow sheds is a magical home from home, and his elves have planned a host of festive craft activities for you to enjoy. It goes without saying that it's a busy time of year for Santa, so he's not there every day in December, check the Dairy Land website for availability.
3) Father Christmas at Lappa Valley in 2021

Lappa Valley briefly takes its trains out of winter hibernation in honour of Father Christmas coming to Cornwall. We have it from a good source that Lappa Valley is one of Santa's favourite stops on his tour of Cornwall, probably because the train ride to the grotto gives him a break from grappling with the reindeer and piloting the sleigh. He's arranged for his favourite elves to meet you on arrival before you board the magical steam train for a winter-inspired trip to his wooded wonderland. And if that wasn't enough, everyone who visits Santa at Lappa Valley gets an early Christmas present.
4) Christmas at Camel Creek
Not far from Padstow, Camel Creek have gone all out in their efforts to welcome Santa Claus to the North Cornwall coastline. With a unique enchanted Christmas tree forest, plenty of mulled wine and hot chocolate, and a timetable of sparking festive activities to take part in, Camel Creek's attention to detail could make this the most comprehensive Father Christmas experience in the county for 2021.
5) Santa at Trelissick Gardens
Father Christmas has something a little bit special planned for his visit to Trelissick Gardens. Regaling visitors with tales of the 12 days of Christmas, he will spend time in the enchanting stables on the outskirts of the house. Generously handing out a small gift to all those who come to see him, the backdrop of Trelissick Gardens lit up in festive hues of red and green make visiting Santa at Trelissick a magical experience for all the family.
6) Father Christmas at Truro Cathedral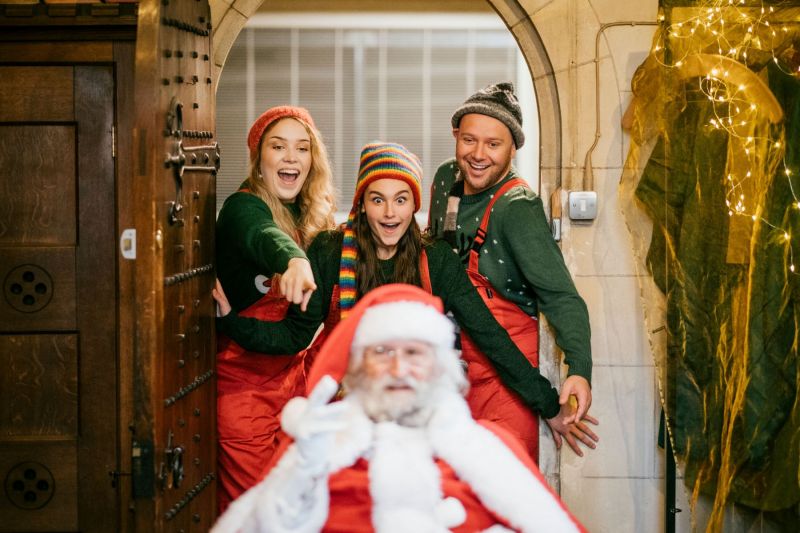 A unique chance to catch Santa in Truro Cathedral, with a grotto set amongst the pillars of this impressive building, his elves have set up a Christmas treasure hunt for all those who visit him on his arrival in Truro. The atmosphere of the cathedral creates a magical backdrop in which to hear traditional tales and witness sparkling candles. And there's a small Christmas gift for children who pay him a visit in the cathedral's crypt.
7) Father Chrismas at Newquay Zoo 2021
Another one on the list for the benefit of Santa's reindeer, the staff at Newquay Zoo will be welcoming Father Christmas just before the big day itself. This makes it one of the last opportunities to personally hand Santa your Christmas wishlist and secure any last-minute changes or amendments. In preparation for their busy night on Christmas Eve, all those who visit will be able to play their part in helping Father Christmas on his epic journey around the world by making reindeer food in the specially created elf workshop.
8) Santa at the Enchanted Christmas Market in Wadebridge
Finally, for those slightly daunted by meeting Father Christmas and looking for a more low key interaction, The Enchanted Market in Wadebridge has asked Santa to read some Christmas stories and sing a few festive songs. The perfect way to get as close to Santa as you're comfortable, he's also agreed to stay behind and take some photos with those children who'd like to meet him personally.
If you're looking for more things to do in Cornwall this Christmas, why not check out our blog page where we discover the most festive activities Cornwall has to offer. And we've still got some last-minute Christmas availability in our luxury accommodation in Padstow, visit the Padstow Breaks homepage for more information.