In Padstow we're blessed with incredible views, and wonderful places to walk, cycle, and sail. With a year-round schedule of events including festivals and markets you're never lost for things to do. Maybe that's why it's such a well-loved location! Or maybe it's the historic buildings, real ales, and the incredible locally-sourced fresh food.
Padstow is awash with quality food and eateries and we recently shared 14 fabulous places to eat and drink in the historic harbour and seaside town…
… but then we realised there were far more than 14! We wouldn't want you to miss out on trying the others in our tried and tested list.
So, here are another 10 fabulous places to enjoy the local sights, food, and good times in Padstow. Do let us know about your experiences.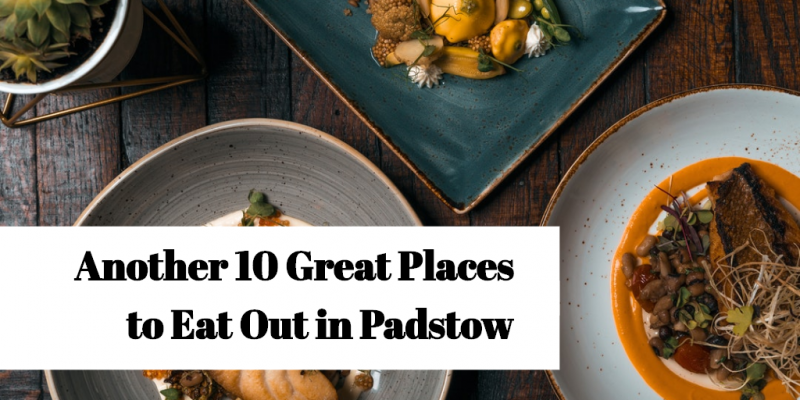 Greens of Padstow
If you're looking for some amazing views and a bit of crazy golf then say hello to Greens of Padstow. Greens offer wonderful views of the Camel Estuary and town whilst also giving you breakfast, lunch, and evening menus that are all made fresh to order. It started life as a pitch and putt many years ago but has been thoroughly modernised and is elegant but dog and child friendly.
The Old Ship
The Old Ship overlooks the stunning Camel estuary and is surrounded by atmospheric cliffs and golden beaches. The hotel is also the closest to the harbour in Padstow and family-friendly to boot. The Old Ship serves wonderful fresh fish that is sourced naturally and cooked to order. You can choose from classic Cornish produce from crab, lobster and Dover sole and they have some really fresh vegetables and meat from local farms too. If you're there on a Sunday check out the roasts.
The Shipwrights
Originally built to serve the fisherman and tradespeople of Padstow, this classic brick-built pub is a real joy. Harbour views, great beers and of course more locally-source Cornish produce to dine on. The bar has old fashioned wooden beams is actually a listed building. Shipwrights are proud to be family-friendly and they serve up some of the best fish in town whilst offering kids activities to keep them happy.
The Custom House
The Custom House is another venue owned by the local St Austry Brewery and the quality of the interior and the food and drinks is very much of the same high standard. If you fancy a treat, you could sample some delicious Cornish oysters and fresh locally caught seafood. With a selection of meat and vegetarian dishes, relaxed pub classics, and award-winning ales this is a great place to come and relax, whilst enjoying those classic harbour views.
Burgers & Fish
Looking for something trendy and different? Burgers and Fish certainly makes the most of the local produce but with a twist on the classic restaurants and fine dining Padstow is famed for. The gourmet restaurant boasts beautiful and sumptuous burgers and classic battered fish with a unique flavour and style. All main courses are booked on a charcoal grill. This place is all about fun and enjoyment. If you're looking for some amazing burgers, you just found them!
Jo Jo's Kitchen
Need a light snack from a sandwich shop? Jo Jo's Kitchen has a selection of classics including bacon rolls and even homemade scotch eggs. You'll find a great cup of coffee to take away. Jo Jo's is close to the harbour and serves fresh food daily including daily specials and some pretty cool milkshakes!
Barnaby's
Sister restaurant to the wonderful Prawn on the Lawn, Barnaby's brings woodfired food to the heart of Padstow. Their wood fired oven "Bertha" is ready to cook you stunning food from T-bone steaks to lobster and mackerel. A cosy and relaxed restaurant, Barnaby's has sharing plates and great cocktails all set in a beautiful former Victorian tearoom. Their aim is for you to feel like you're at a friend's home for dinner, which we think is lovely.
The Cornish Crepe Company
Crepes by the sea are a real treat and The Cornish Crepe Company doesn't disappoint. Located in a funky beach hut at the end of the Camel Trail, they're open 7 days a week unless the weather is bad. With a selection of ice creams and Lavazza Gold Coffee, this place has a great reputation for a sweet or savoury crepes, hot chocolate, and ice creams.
Embers Pizza
If you love pizza then grab a table at Embers and let 'The Big Orange' wood fired oven cook you a wood-fired pizza on a 400 degree heat! Embers serve up artisan and Neapolitan style pizza with authentic Italian tomatoes and mozzarella. Enjoy the smells and the atmosphere in this quaint little place in market Place. They offer a takeaway service 7 days a week and are working towards being plastic-free to reduce waste.
Rest a While Tea Garden
Just like the name suggest, Rest a While is a perfect stopping point on your busy day in Padstow. The quaint little tea shop is found on the coastal path at Hawker's Cove on the path between Padstow and Stepper Point. It overlooks the bay and serves cakes, fresh sandwiches, and homemade snacks along with teas and coffees. Pull up, unwind and watch the world go by.
Cherry Trees Coffee House
Cherry Trees is the result of a life-long dream to own a coffee shop. After moving from London, the owner (who is originally from New Zealand) realised her dream and opened Cherry Trees just across the harbour from where her grandfather used to serve coffees. Cherry Trees has breakfast, lunch, and afternoon teas menu and lovely views of Padstow Harbour. There are two tables at the front of the coffee house where dogs are welcome.
So there you are, with our previous blog you now have a stonking 24 fabulous recommendations for places to wine, dine, snack and eat in in Padstow! That's going to take you a good few weeks to get through.
If you're looking to come and stay in this wonderful little harbour town then do take a look at our properties and availability here.