Padstow in Cornwall is blessed with fine dining, locally-sourced and fresh food, and some of the best beaches in the UK. This is the perfect place to come to wind down, and relax.
But what about if you're a dog owner? Can you bring your four-legged friends without any hassle?
It's often a challenge taking the dogs on holiday, but in Padstow we're proud to say that you have a lot of options. With loads of beaches, some wonderful walks, and some brilliant local pubs and restaurants, you'll be spoilt for choice, and so will your favourite pooches.
We thought you might like to know where you go, walk, eat, and drink with your four-legged pals. So here's a list of restaurants, dog-friendly beaches, and even some shopping for them while you're here.
Dog-friendly restaurants near Padstow
You won't feel limited to where you can eat out in Padstow with your dogs in tow. There are LOADS of places that welcome dogs and here are 15 places to get your ideas flowing.
Around 30 minutes from Padstow, Lusty Glaze offers lazy lunches, cosy coffees, seaside suppers and even sports a privately-owned beach!
Ruby's Bar is one of Rick Stein's places and offers a wide range of Rick's favourite drinks. It's just a short walk from the harbour and welcomes your dogs.
With glorious harbour views, traditional fresh pub food and award-winning ales, Shipwrights is a firm favourite of ours and has a large pub garden where you can enjoy the Cornish sun.
Another venue from Rick Stein's empire, The Cornish Arms is a classic British pub with all the food you'd expect at the quality you've most likely heard about. There are some St Austell's beers on tap, some stunning interiors and a pleasant patio area to boot!
A real homemade style with some infamous local steaks and freshly made soups. The Golden Lion is a friendly pub with 'oldie worldie' feel.
This is really an ideal family inn. With local food, cask ales, pool table, daily specials, and homecooked treats, you'll not go far wrong with the Harbour.
With Sunday roasts, views over the Camel estuary, and views of the surrounding beaches, The Old Ship offers fresh fish and fine wines and is happy to welcome your pooch.
Looking for an oyster bar and grill with St Austell ales and amazing coffee? Well… here they all are in one place. Custom House overlooks the harbour and welcomes your dogs and family with some delicious treats for the eyes and the stomach.
Another pub from St Austell, The Pityme Inn has a children's play area, reasonably-priced food, and obviously some rather delicious, award-winning ales on tap.
Situated in neighbouring Wadebridge, the Quarryman is a traditional Cornish pub that's regularly featured in the good pub guide as well as recently being featured as finalists in Cornwall Life's 'Best Country Pub' and 'Best Gastro Pub' awards.
The Ring O' Bells is well-known for serving some really great, quality home cooked food at really reasonable prices. Dogs and children are welcome and they're well-respected through reviews on Trip Advisor and the Good Pub Guide.
With panoramic views of the Camel Estuary and the harbour, the Rock is best known for its fresh fish dishes and their signature dish, Porthilly Mussels in Mariniere sauce. You'll have to tell Fido you won't be sharing your food!
Looking for tea, cake and a traditional setting? Café Cloud is well respected and welcomes your tired feet and well-behaved dog.
It's highly rated on Trip Advisor with over 400 reviews nearly all 4 or 5 stars!
Passionate about Cornish beef and serving up wonder Sunday carvery, Halfway House is due to open after a refurb in March 2019.
This is a classic favourite with a twist! Head chef Henk is the owner at the currently closed Halfway House and is passionate about the customers saying that they cook for them as if they were their family.
Dog-friendly beaches near Padstow
Of course, a lot of Cornwall and Padstow is about those long walks and amazing views. We've shared a lot of the best walks in Padstow on our blog recently HERE and HERE but some of the beaches don't allow dogs.
The good news is there are plenty of beaches that do and here's a fully updated list from The Good Dog Guide featuring Padstow beach, Constantine Bay, Porthilly, and more.
Dog-friendly beaches in Padstow
Pamper your pooch in Padstow
Of course, with all those walks and fine dining your dog may well need the right gear to look his or her best! Well, you're in luck! In Padstow we have the pawsome Paws in Padstow who have a great range of food, dog beds, collars and coats.
We love this family business as they came here on holiday, went home, and then plotted how they could come back for good… and Paws in Padstow was born. They have a super cute Beagle called Rocky who models for them on the website.
You can buy online, but why not visit their shop when you come down here? You could stock up on pet wipes, travel bottles and anything else your furry friend needs for their holiday.
The boutique is at Trevisker Garden Centre, the gateway to Padstow. There's free parking and the whole site is dog friendly, including the gorgeous cafe.
Where's Welly?
This is a little 'left field' but we even have a welly dog in our shop around the corner from us. It might not be to everyone's taste, but the Welly Boot Dog at 'The Beyond the Sea' has raised £2945.20 since 2009 for local Padstow Lifeboats.
Forget Rick Stein, meet Chalky!
Oh… and it's not all about Rick Stein down here, either. Rick's dog chalky is possibly more famous than he is. The little Jack Russell even has his own web page on Rick's website.
You can see why some of Rick's places are dog-friendly.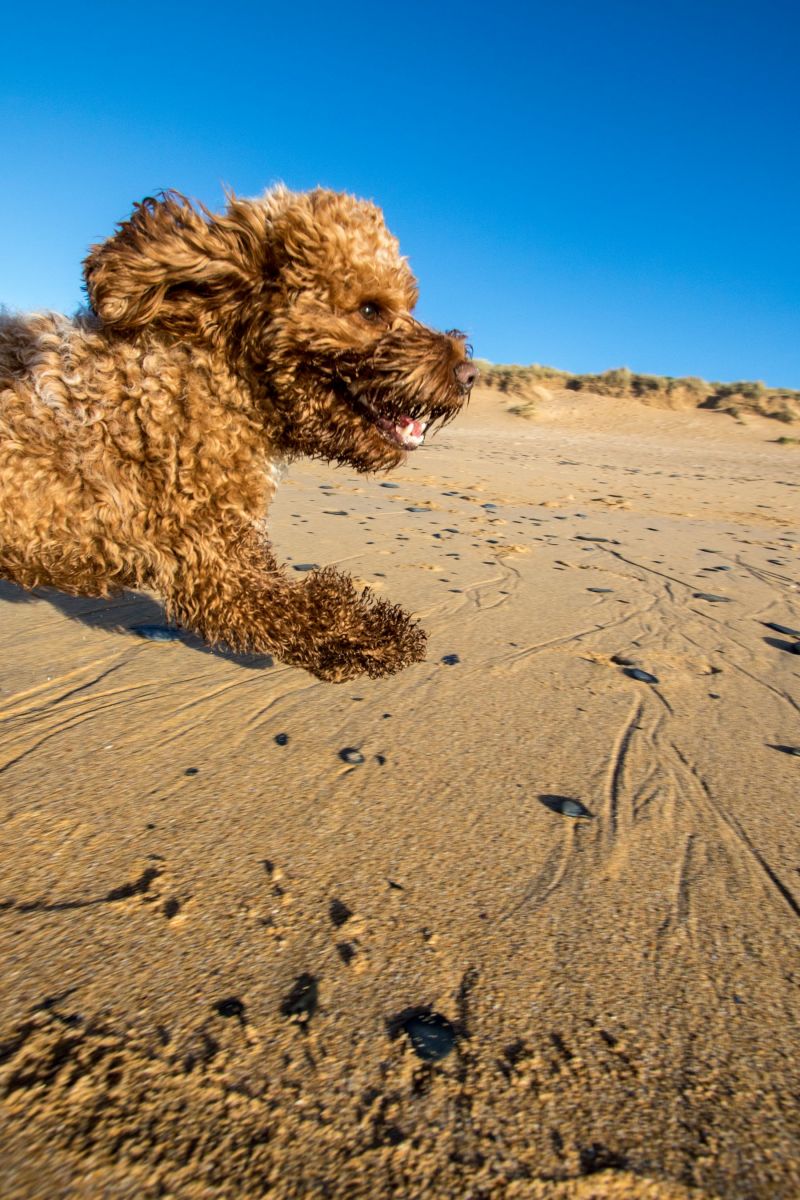 Staying at dog-friendly cottages in Padstow
Coming to stay? We have two dog-friendly properties at Padstow Breaks which refuse to compromise on quality just because they accommodate dogs. We give you our infamous quality surroundings that attract people all year round from all over the UK, as well as Vogue reporters, no less!
We even provide dog bowls, blankets, welcome goodie bags, and an outside warm water shower for after those muddy, sandy walks is soon to be added to Malt Cottage.
Our dog-friendly properties are:
We can even arrange dog sitters if you tell us in advance.
You'll also find a whole list of dog-friendly things to do here on The Good Dog Guide.
If you need any more help arranging your family (and dog) holiday in Padstow please do contact us right here. We look forward to welcoming you.